Junior League of Knoxville Turns 100
We are proud to celebrate the League's centennial anniversary in 2021! We hope you'll join us in celebrating at various events planned throughout the year.
More details and events will be added throughout the year.
---
100 Women of Influence
---
Shaping Knoxville: 100 Years of the Junior League
Join us for a series of monthly events featuring community leaders and Junior League members.
Session 1: Supporting Young Women in the Community
Thursday, February 25 | 5-6 p.m.
Guest speakers will be Nancy Christian, President and CEO of the Florence Crittenton Agency; Kelli Derieux, Owner and Founder of The Beauty MRKT; and Lynne Fugate, CEO of the Girl Scout Council of the Southern Appalachians. View speaker bios here.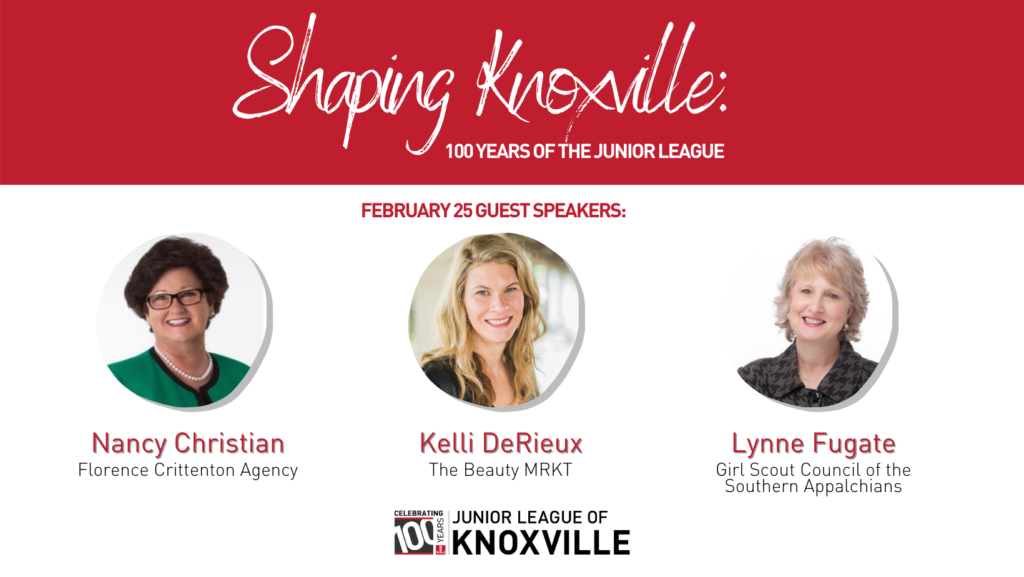 Session 2: TBA
Thursday, March 25 | 5-6 p.m.
Event details TBA
---
Donate
Donate to the Endowment Fund and support the next 100 years of the Junior League of Knoxville.